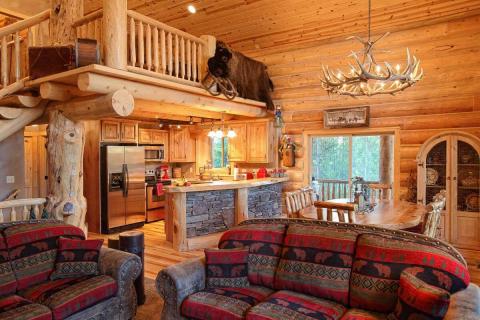 02 Jan

What's Included in a Log Home Package?

Introduction

When you are shopping for a product, it is important to know what you are getting for your money. Nothing is more disappointing than making a purchase, only to realize it didn't quite have everything included as you thought. For example, when you didn't realize batteries were not included. So it goes with log home packages. When it comes to planning for your log home, you need to understand log home packages may differ from company to company. Before you buy a log home package, you need to know what is included and what is not. This article is meant to help you understand a little more about the log home packages available at Yellowstone Log Homes.

What's Not Included in Our Log Package

One of the biggest misconceptions about log home packages is people think they include ALL the necessary materials to build and finish a log home. While they include the core materials for the log home itself, log home packages do not include everything you may think. For example, log home packages do not include windows, doors, flooring, or appliances. Also, any materials or services generally provided by contractors or subcontractors are also excluded from the log home package. Such service work or materials excluded from the log home package are in the following list below: the log home's excavation and foundation, the general construction and assembly, the plumbing and electrical, the roofing, etc. It is up to you work with your log home contractor to arrange these services for your log home. Since Yellowstone Log Homes is one of the largest log home manufacturers in the United States, we can help you find local contractors and subcontractors near you. Items not included:

Plumbing

Masonary

Electrical

Excavating

Carpenters

Roofers

Foundation

Building Permits

Windows

Floors

Carpet

Cabinetry

Appliances

What's Included in Our Log Package

Yellowstone Log Homes offers two different log home packages. One is the Premium package, and the other is the Elite package. Each contains a list of specified materials for your log home, and each are able to be customized to your unique needs. Below is a breakdown of what is included in the two packages:

Premium Package

In our Premium package, the following log home materials are included: TP grade stamped walls and log beams, all log walls, log home screws, exterior log home stain, foam gasket, log home caulking, log roof beams, log support posts, 1X6 tongue and groove, 2X6 T&G for loft floor decking, log porch header, log loft floor joists, log stair set, log porch posts, and log railing.

Elite Package

In our Elite package, the following log home materials are included: meta drip ledge for eave and gable, cedar two step fascia, OSB rim board for eaves, architectural shingles, wooden I-joists & LVLs for roof rafters, roofing felt/ice and water shield, 4'X8' sheets of OSB, Blocking between wood I-joists, framing lumber for interior walls, conventional frame stair material if not log, Double 2X6s for window bucking, redwood decking or upgrade to Trex, framing lumber for exterior decks, subfloor adhesive, 4'X8' sheets of ¾" T&G OSB, wooden I-joists & LVLs for subfloor, pressure treated lumber for sill plate, sill sealer, OSB rim board for subfloor, 4'X8' sheets of T1-11 subfloor fascia, ⅝" couplers and all thread.

Order Yours Today

Once you place an order for our product, we will ship it to your location, and your log home contractor will take it from there. If you are still looking for a log home contractor near you, we can put a few in touch with you. Call us today at (208) 745-8108 to find a log home contractor and for more information on what is included or excluded in our log home packages. We can give you a free estimate for your unique log home.