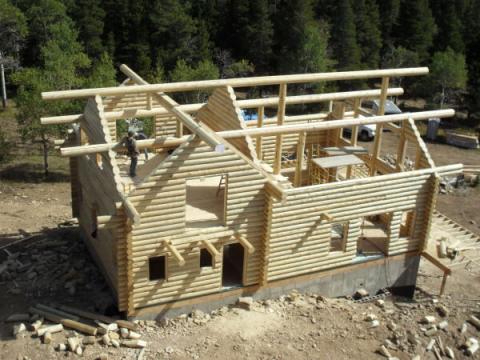 02 Jan

Build A Log Home Yourself or Hire a Contractor?

If building a log home is in your near future, it is important to start thinking about who you want as your builder or contractor. Choosing the right log home builder or contractor is one of the most important decisions you will make, because it will impact your overall log home building experience. Your lifelong dream to build a log home should be entrusted by one who shares your unique vision. Due to the simple nature of log home building, some may choose to be their own contractor, be their own log home builder, or hire a professional. Each of these options has its own advantages and challenges, but it is up to you to decide which of these options will best fit with your situation and overall experience. Listed below, information is provided to help you decide which option may be right for you. If you have questions, feel free to give Yellowstone Log Homes a call at (208) 745-8108.

Log Home Building Options

Hire a turn-key contractor

Be your own contractor

Build the log home yourself

Hire a Log Home Contractor

One of the most convenient options to build a log home is to hire a log home contractor. Hiring a contractor can be appealing for those with limited time or experience in log home construction or management. By hiring a log home contractor, he/she can help coordinate, oversee and manage the hundreds of large or small decisions involved with the subcontractors, the scheduling, the quality control, and everything else under the construction umbrella. Part of the log home contractor's responsibility is to also make sure costs remain within budget, and the construction meets your expectations. Sometimes that alone can be invaluable.

Another perk of using a log home contractor is their ability to work out deals with subcontractors to get the lowest bid. Contractors that have been in the industry a long time will typically already have subcontractors they like to use to get the best rate and keep the bids low. If you are interested in a turn-key log home, contact Yellowstone Log Homes to find log home contractors in Utah, Colorado, Wyoming, Idaho, Montana, and many other states.

Be Your Own Contractor

Individuals with experience in management or construction may decide to be their own contractor to cut down costs. According to Log Home Living, you can save about 15 to 20 percent of the total cost of your log home by being your own contractor. Though the job of a contractor can be time consuming and demanding at times, the end savings could well be worth it. As the contractor you will be responsible for a wide range of tasks, but ultimately, you will oversee the entire project from start to finish.
Some of the responsibilities of a contractor are to get bids and building permits, secure the property and provide temporary utilities, gather and deliver materials/equipment, manage the workers and coordinate schedules, provide inspections and document the finances of the project, and more. The entire construction of the log home will be in your hands to make sure it meets your standards and expectations. Decide if you and your family are ready for the commitment to be your own contractor, or if you'd prefer to hire one to save you time and stress.

Build Your Own Log Home

Log home construction is much simpler in nature than construction of a normal home. In fact, Yellowstone Log Homes often encourages its customers to build at least part of their log home. By taking part in the construction process, you can save money on your log home and build memories along the way. It can be a rewarding experience, though there are a few things to consider beforehand. First and foremost, if you decide to take part in the building process, you should be aware that the construction process will take any extra time you have to work on the cabin. That can include time after work, weekends, and potentially holidays.

It is a big commitment and a decision you will need to make with your family. Decide if building all or part of your log home is something you can handle and support each other with. If you do decide to take part in the construction process, you have the opportunity to save approximately 35 percent of the total cost. It is a great opportunity to save money if have the experience to do it right. If not, maybe it might be worth the other two options to build a log home. Give Yellowstone Log Homes a call today at (208) 745-8108 and talk to our salesman about which of these three options might be right for you.