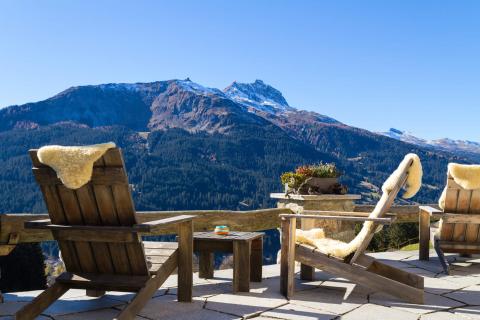 02 Jan

Best Places To Build A Cabin In The West

Cabin living is all about relaxing, privacy and enjoying nature. With these lures, it is no wonder hundreds are buying into the cabin lifestyle each year. The draw of cabin living starts with choosing your dream location. That's why we've compiled a list of the top 5 most beautiful places to build a cabin in the western United States. Check out our list below, and share with your family where you would love to build a log home!

1. Priest Lake, Idaho

Why we love it: Located in the northern tip of the Idaho panhandle, Priest Lake resides slightly east of the Washington border. Surrounded by mountains and pine trees as far as the eye can see, this evergreen scenery will take your breath away. With its crystal blue waters, Priest Lake has all of the fun, water sports available during the spring and summertime.

Why you'll love it: Enough businesses are nearby to meet your needs, but this quaint, little community will provide the perfect escape from the busy lifestyle of larger communities. Summer and winter recreation is available year round, with activities ranging from water skiing to snowshoeing. If you enjoy watching wildlife in their natural habitat, then you'll love Priest Lake. A variety of wildlife live in the area, including moose, bears and deer, so keep your eyes out! Lastly, Priest Lake gives you the opportunity to live on lake front property, and who doesn't want that?

2. Star Valley, Wyoming

Why we love it: Nestled between the Salt River Range of Wyoming and Webster Range of Eastern Idaho, Star Valley is known for its wide open ranges and breathtaking scenery. Unknown to many, Star Valley is also home to one of the wonders of the world, the Intermittent Spring. This spring produces water so pure you can drink it, but the mystery of where the water comes from has yet to be discovered.

Why you'll love it: If you're looking for thousands of acres of natural beauty without thousands of people around, Star Valley is for you. In 2016, the population of Star Valley was roughly 6,443; a population comprised of 12 communities across 60 miles. In the area, there are plenty of grocery stores and businesses to meet your needs, and Jackson Hole, Wyoming lies only 30 miles north. This historical Western town is literally surrounded by mountains and lakes, making it a dream destination for hiking, fishing, camping and swimming lovers. Centrally located to about six ski resorts, professional snowmobilers everywhere are attracted to the fresh powder of Star Valley during the winter, making it fun place to live year round.

3. Sedro-Woolley, Washington

Why we love it: Nicknamed "Gateway to the North Cascades," and located just 80 minutes north of Seattle, Sedro-Woolley offers the perfect setting and change of scenery for a cabin. Expect to be surrounded by waterfalls and greenery in this beautiful town, and its surrounding areas. Plus, Mt. Baker National Forest is less than an hour away!

Why you'll love it: Sedro Woolley is perfect for those looking to get away, but who still wish to have strong community ties. In 2016, the population of Sedro Woolley was 11,476. This population sustains a growing economy, including a Walmart Supercenter just 20 minutes away. Community events include summer concerts, local farmer's markets, rodeos, carnivals and even an annual beard growing competition. Don't let your majestic beard go to waste without notice any longer!

4. Mount Charleston, Nevada

Why we love it: Located right next to the Toiyabi National Forest, the community of Mount Charleston is a nice little community, known for its beautiful hiking trails and cool temperatures. Mount Charleston is the perfect getaway for Las Vegas residents, many who choose to live there year round.

Why you'll love it: Despite its close proximity to Las Vegas, Mount Charleston is on average 20 degrees cooler than Las Vegas. With cooler weather conditions, outdoor enthusiasts love to take advantage of great rock climbing, hiking and skiing in the area. Mount Charleston, also known as Charleston Peak, is covered with snow for at least half the year, lengthening the ski season for skiers to enjoy. This community of nearly 360 permanent residents has a small-town feel, but is conveniently located only 35 miles from Las Vegas. If you enjoy the small town atmosphere, but also appreciate the close proximity to larger cities, you will really enjoy Mount Charleston.

5. Whitefish, Montana

Why we love it: When one thinks of Montana, beaches probably aren't the first thing one imagines. Unlikely as it may seem, Whitefish actually overlooks a beautiful beach with pristine, sparkling waters. This quaint city in Montana hosts enough permanent residents to have all of the grocery stores, fine dining and entertainment one could ever hope for in such a serene place.

Why you'll love it: National Geographic named Whitefish one of the "Top 25 Ski Towns In The World," making the city a prime location for winter recreation. The cost of living in Montana is also lower than the national average, giving you a whole lot of scenery and recreation for a lower price. With Glacier National Park being only a short 36 minute drive away, residents are sure to enjoy all of the outdoor recreation available.

Conclusion
When deciding where to build your log cabin, there are many factors to take into consideration. Ultimately, it comes down to your expectations and what the area has to offer your family. Once you find your dream location for your log home, give us a call at (208) 745-8108 and we can recommend log home builders in the area. Yellowstone Log Homes is here every step of the way for aspiring cabin owners, and has been for over 50 years. Feel free to contact us at anytime during the planning process, and we would love to be of assistance!