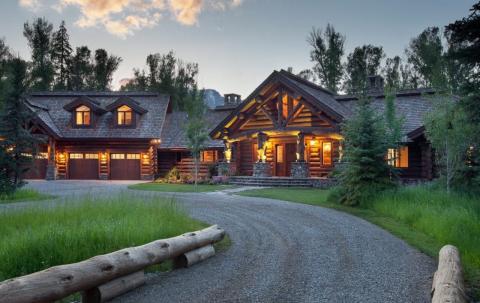 02 Jan

Best Log Home Planning Resources

Wondering where to start with your log home planning? You are not alone! Most people don't know quite where to begin. Yellowstone Log Homes has a variety of log planning resources available to help guide you through the planning process. Yep, that's right! From free brochures to log home planning guides, knowledgeable log home salesmen, and model log homes available to tour, taking advantage of these resources will help you make the most of your log home planning experience. Learn more about these log home planning resources below!

Free Log Home Brochure
One of the first things you should do when you are serious about building a log home is to request a free brochure from Yellowstone Log Homes. Inside the brochure you will find: basic information on log profiles, floor plans, information on popular items included with the logs, and a little background on Yellowstone Log Homes. It is a great resource to refer to from time to time, and all you have to do is visit this page on our website and click "order now" for a FREE brochure.

Log Homes Planning Guide

Once you've ordered your FREE brochure, the next helpful resource you should get is our log home planning guide.  Yellowstone Log Homes offers this fantastic log home planning guide on our website for purchase at a small price. With the purchase of this log home planning guide, you can have access to some of our most popular floor plan designs. Also, included in this 148-page log home planning guide is information about our log styles and what you can expect during the planning process. It is a great tool to use as you narrow down your favorite log home floor plan, and to learn about all the options you have available when you build a log home. Each of our customers have found our planning guide book to be informative and helpful. Buy our log home planning guide today!

Model Log Home
If you are having a rough time deciding on a log home floor plan, see if you can stop by a model log home. By visiting a model log home, you can get an idea of what you like in a floor plan, or what you'd want to do differently. If you are an Idaho local, Yellowstone Log Homes recommends visiting our model homes in Rigby, Idaho! Our model log home is based off the Yellowstone floor plan, only adjusted to accommodate our office headquarters. If you haven't seen our model log home before, here is a brief video to check out. Otherwise, be sure to check out our log home floor plans page on our website to see all your options for log home designs.

Log Home Salesman
One underutilized resource people often forget about when planning for their log home is our log home salesmen. When it comes to helping customers plan for their dream log home, we have extensive experience and insight to help customers through the planning process. After all, we've helped more than 15,000 customers already to plan for their dream log home. Our log home salesmen would love to help answer your questions, pick out a log home floor plan, choose a log home builder in your state, or decide which log home package is right for you.  It is our job to make the log home planning process as smooth as possible one for you and your family. Give our log home salesmen a call today at (208) 745-8108!