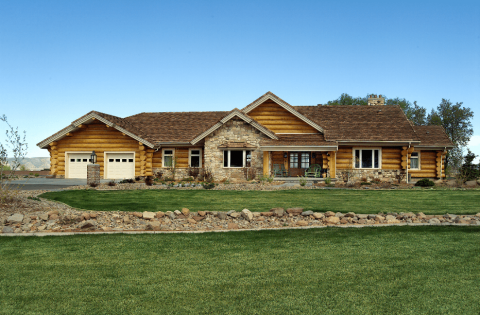 02 Jan

What is it like to Own a Log Home?

Owning a log home is a unique experience that completely changes the way you live your life! Anyone who is considering the prospect of owning a log cabin in the future should know about some of the advantages and responsibilities naturally inherited with log home ownership.

You Always Have Your Very Own Getaway

One of the great advantages of owning a log home is you always have your very own vacation getaway. When life gets stressful or your day-to-day routines are wearing you down, you pack up your bags and head up to the cabin! It's extremely nice to own a cabin when holidays come around, when you want to celebrate an anniversary or birthday, or just want to take advantage of good weather. Cabins are a great excuse to get some fresh air and rejuvenate! It is always nice to have a place to go to relax and enjoy time away.

You Can Enjoy What You Love More Often

Owning a log home allows you to enjoy what you love more often. Whether that is hunting or fishing, spending time at the lake, hiking, playing games with family and friends, reading a book, skiing or snowshoeing,  log cabin living allows you to enjoy the most rich experiences in nature with your family and friends. Time is precious and log home living allows you to make the most of it with those you are with.  Let's face it, you've got to live a little and enjoy life the best you know!

You Get to Spend More Time With Friends and Family

Log homes are a great excuse to spend more time with those you care about. When you own a cabin, you can't help but want to share and enjoy it with good friends and family. Log cabins are great places to make memories and strengthen friendships, so you often open up your log home for parties, celebrations, family reunions, and any other special event.  Quality bonding at the cabin is inevitable. Time spent at the cabin is always remembered, because the time at the cabin is so enjoyable and memorable. If you are a retired couple, a log home is the perfect gathering place for all your kids and grandkids because there's plenty to do and plenty of space to accommodate everyone.

You Need to Regularly Check Up and Maintain Your Log Home

Like any other property you own, a log home will require regular maintenance and upkeep, especially if you decide to use it as a rental property. While the maintenance might be slightly different than a typical home, it is manageable and expected by most log home buyers. It is important to keep up with the maintenance of your log home to keep it in its prime condition. A more detailed list of things you can do to maintain your log home, will be available in the future. Some are able to visit their cabins regularly, while others find it harder to get away. In these circumstances, if you do not live in the area and it is inconvenient for you to check up on it regularly, you can have a friend or neighbor in the area help you out, or hire someone professionally. It will give you peace of mind and the assurance everything is in order with your log home.

You Feel Great Knowing You're Living Green

When you own a log home, one of the best feelings is that you can take advantage of nature, without really taking advantage of it. Log home living makes a minimal impact on the environment. A log home is energy efficient and is made from all eco-friendly materials. None of the logs used to build the cabin are chopped down prematurely when they are still green. All logs used in our log home kits are made from dead and dried out wood, which are eco-friendly and make for a better log home anyway. You can enjoy your log home and feel good about its minimal impact on the environment.

You May Enjoy Country Life as a City Person

One of the great perks to owning a log home is you can enjoy the country life and still maintain your city resident status. Escaping the city lights and crowds to enjoy unprecedented views of the night sky and surrounding scenery is prized by every log home owner. Many people often purchase a log home with no intention on living there year round, and that is okay. Even though log home owners may not live in the cabin year round, they feel their investment is well-worth it from day one. Some, even, make a decent income from their log home by renting it out on a regularly basis when they are unable to occupy it. The bottom line is, when you buy a log home you quickly feel a return on investment in more ways than one. Owning a log home is often a dream fulfilled for many.

If you would like to learn more about log home living or available options for building a log home, Yellowstone Log Homes would be happy to talk with you. Give us a call today at (208) 745-8108!