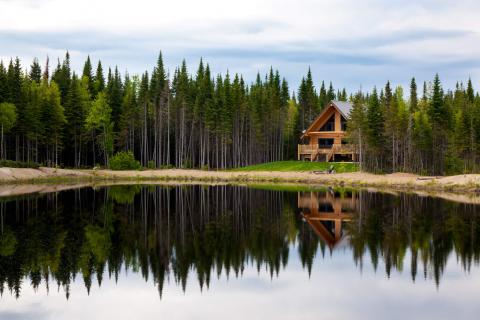 02 Jan

Simple Guide for Building Your First Cabin

Having the opportunity to build your own log home gives you the freedom to finally make your dreams a reality. All those years of waiting, and now the time is finally here! Building your first log home could be a great experience, one you'd easily do over again, or it could be an experience filled with regret and disappointment.

If you or your family is expecting to build a log home in the near future, knowing what to expect through each stage of the building process will help you to have a positive building experience. Here are a few insights on what you will need to do to prepare to build your first log home.

Plan With The End in Mind

Before you begin building your first log home, start by keeping the end in mind. It is easy to get lost in the details of the planning and building process, so be sure to keep perspective, keep a budget and keep realistic expectations. Don't sweat the small stuff, and have a vision for your log home and how you want it to turn out.

In the early stages of log home planning be sure to set a budget, and determine what you want most in your new cabin. Familiarize yourself with the costs associated with log home building, and create a list of the home upgrades you want or can do without. For example, some fantasize of the perfect kitchen, a classy exterior, a dreamy fireplace, or even a luxurious bedroom. Others may prefer spectacular views of the mountains, hardwood floors, or saving room in the budget for a detached garage.

With this new freedom to make your dream cabin a reality, it also comes with the need to keep within budget and say "no" to extras outside of the budget. Having every upgrade usually isn't possible for the average person, but you can determine what is most important to you and your family.

By understanding your budget and building costs, you can more easily plan for your log home. Finances can add stress to the building process, so keeping your budget in check will help you avoid greater financial stress. Set a realistic budget, and choose your upgrades wisely. Keep in mind log home packages are typically around a third of the total cost of the log home.

Seek Financing For Your Log Home

Before building your first log home, you will need to seek the appropriate financing with a bank, credit union, or a savings & loan association. When you get a free moment, be sure to schedule a time to meet with a loan officer and first get pre-approved for the loan amount you wish to receive. Doing so will make planning for your log home much easier in regards to knowing exactly what you can afford for your property and building your log home.

When it gets closer to beginning construction, you will need to have your loan approval received by the lender, before the contractor can start to build your log home. Contact your lending institution today to learn more about financing your log home.

Search For Property At A Good Price

Finding a location for your first log cabin is a decision requiring lots of thought and consideration. Buying property at the wrong place or time could complicate the process, leaving you with doubt or regret knowing you paid too much money for the property, without completely loving the land.

Weigh out the benefits and drawbacks of each location. Is the property close to shopping or recreational areas? Does the property have a good view? Is it priced too high, or have high property taxes or HOA fees? Talk with your family and discuss what you are looking for in an ideal piece of property, and how much you'd like to pay for the property.

Property prices fluctuate over the years, so in order to save money on a piece of property, you need to buy it long before the property prices skyrocket. If you know you want to build a log cabin in the future, purchase a piece of property when the market is right. It doesn't hurt to sit on it for a few years until you are ready to build. Keep in mind timing is everything when it comes to buying property for your log home, so keep an eye on property prices, as well as your favorite locations.

Once you purchase the land remember it will need to be groomed and prepared before any construction can begin. If you purchase land for your log home in an area where there are lots of trees, you'll either need to hire a company to clear the land for you, or you can save money by clearing it yourself.

Choose a Log Supplier & Log Home Kit

Use great consideration and interest when selecting a log supplier and a log home kit for your cabin. The quality of the logs you use for your cabin matters, and you don't want to purchase just any log home kit. Find a log supplier with a quality product at a fair price, and you won't have any regrets.

Some of the best log homes are made from standing dead timber. Standing dead timber has minimal settling impacts, is economical, and is overall better for the environment. It also has very little commercial demand, so it is often free or very inexpensive, lowering your overall costs of the log home kit. Building with standing dead timber will save you money, save the tree from being wasted, and save living trees from being chopped down for your cabin.

Consider Yellowstone Log Homes to be your log supplier for your log home kit. Yellowstone Log Homes uses Western White Wood, which includes Engelmann Spruce, Douglas Fir, Lodgepole and Ponderosa Pine. Our log home manufacture also offers two different types of log home packages, which includes a premium package and an elite package.

A wide variety of log styles are also available to choose from including machine to pre-cut, D-logs, and even hand-crafted logs available in a variety of sizes from a 6" diameter to a 16" diameter. For more information on both packages, please call for further assistance and current pricing.

Find a Log Home Contractor or DIY

Once you have found a log supplier with an outstanding product, it would be best for you to seek recommendations for log home builders from your log supplier. Log home suppliers and manufacturers work with contractors on a regular basis, and can offer insights on which contractor might be a good fit for you. Yellowstone Log Homes would be happy to recommend log home builders in your area.

While it is not essential to hire a contractor who specializes in log home construction, it could provide greater confidence to you throughout the process. All of the log home kits available at Yellowstone Log Homes come with instructions and labeled parts, so the kits can be assembled by anyone, contractor or not. It could be a great way to save money if you choose to assemble the log home kit yourself, and hire a contractor to handle the rest of the building process.

If you do not have much of a construction background, then hiring a contractor may be the best route for your situation. The log home contractor will manage and coordinate all the rest of the construction process, including hiring of the subcontractors, setting deadlines, acquiring permits, and much more.

Pick a Floor Plan & Meet With The Drafting Department

Deciding on a floor plan is next on the agenda. When exploring your floor plan options, remember to check with your contractor or log supplier to see what floor plans they may have available to choose from. If you find a floor plan you like, but it's not completely what you want, keep in mind the floor plan can be customized to your wants and needs. Schedule a time with the drafting department offered by your contractor or supplier, and they can help you visualize the possibilities for your log home.

Keeping the Vision For Your Log Home

Last, but not least, keep the vision for your log home. Building your own log home comes with its advantages, but it also comes with many challenges and difficulties. Stressful moments can arise, but keep in mind it will result in a breathtaking, beautiful log cabin. If you have a spouse or significant other, work together to make united decisions throughout the planning process.

Stick To Your Goals & Budget

Avoid Emotional Decisions

Be Unified In Your Decisions

Plenty of assistance is available to help make the planning and building process for your log home as smoothe as possible. Don't be afraid to reach out to your log supplier, your log home salesmen, or your log home contractor for questions and assistance. Before you know it, you will have your log home built and and will be enjoying it with friends and family for many years so come! Give Yellowstone Log Homes a call today at (208) 745-8108 if you would like to know more about how you can start the planning process for your log home.