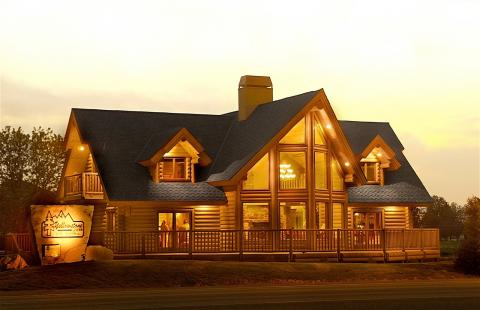 02 Jan

Log Homes for Every Budget: Best Tips

Conservative Budget
If you are on a budget building your log home, join the club. Yellowstone Log Homes has helped many people like you build a beautiful log home on an affordable budget. With decades of experience in log home manufacturing, Yellowstone Log Homes has helped customers build log homes suited to their needs and budget. With some of the finest workmanship and woodwork, we make our customers' dreams a reality. Yellowstone Log Homes offers log home floor plans, a variety of log types and styles to match your tastes and budget.

Log Home Builder & Salesperson
One of the best recommendations for building a log home on a budget is to utilize the combination of both our builder and our log package salesperson. The builder can discuss the entire project's cost, and the log package salesperson can help customers find the most economical log package available to meet their price point.

Our log home salesperson can show customers less expensive log package options and guide them through the many different available options: standard appearance or cabin appearance, handcrafted or milled, large diameter logs or smaller diameter logs, etc. Additionally, our salesperson can help customers choose from logs or kits that are on sale to help them save money.

Budget Recommendations & Tips:

Wyoming Floor Plan
A popular floor plan we offer is the Wyoming floor plan. With a rectangle-shaped floor plan, the log home is both attractive and economical as it is relatively easy to build. If you are looking for a floor plan to meet both your wants and needs, talk to a Yellowstone Log Home salesperson for more information about this floor plan. Designed for aesthetic appeal and floor plan functionality, our Wyoming floor plan may be the perfect match for your budget. Other economical floor plans are also available to choose from. Learn more about our economical floor plans.

Standard Appearance vs. Cabin Appearance
Standard appearance would likely be recommended for those on a budget. While the cabin appearance is more popular for its rustic qualities, the standard appearance requires less time, work and expense. Cabin appearance is different than the standard appearance as the logs are milled, to purposely not remove all the bark from the log. Remaining bark on the log is then draw-knifed off to give the wood more rustic attributes. Both the standard appearance and cabin appearance make for beautiful log homes.

Hand-crafted vs. Milled

Our Milled log homes are the most affordable style of log to build with. Milled logs are easier to assemble, since each Milled log is like a piece in a Lincoln Log kit. Each Milled log will fit perfectly together anywhere in the house, while the hand-crafted logs are different sizes and need to be manually fit together with draw-knives and chainsaws. Therefore the Milled logs do not require pre-assembly at the manufacturer. Our most popular milled logs for customers on a budget would be our 6″, 7″, and 8″ cabin appearance logs.

Hand-crafted log cabins are desired by customers who want their log cabin to have a more rustic look. If you are on a tighter budget, milled logs are more affordable and make a great choice since hand-crafted log homes are more expensive. Each individual hand-crafted log needs to be hand-prepped, peeled and assembled, which is time consuming.

Corner Styles
The best advice for someone trying to build a home as affordably as possible, would be to build a home with only four corners. A home with a simple floor plan will be easier to build and more affordable. Yellowstone Log Homes offers a number of floor plans with four corners you can choose from. Learn more about our other corner styles here.

Save Construction Costs
Another great way to save money, if you are able, is to try to do as much of the log home construction as possible yourself. If your budget allows for more flexibility or you do not have the construction skills to do so, we can help with other considerations. Keeping these tips in mind makes it possible for your dream log cabin to become a reality. Yellowstone Log Homes helps individuals to build their dream log home at a price they can afford.  Get in touch with Yellowstone Log Homes sales representative today at (208) 745-8108.