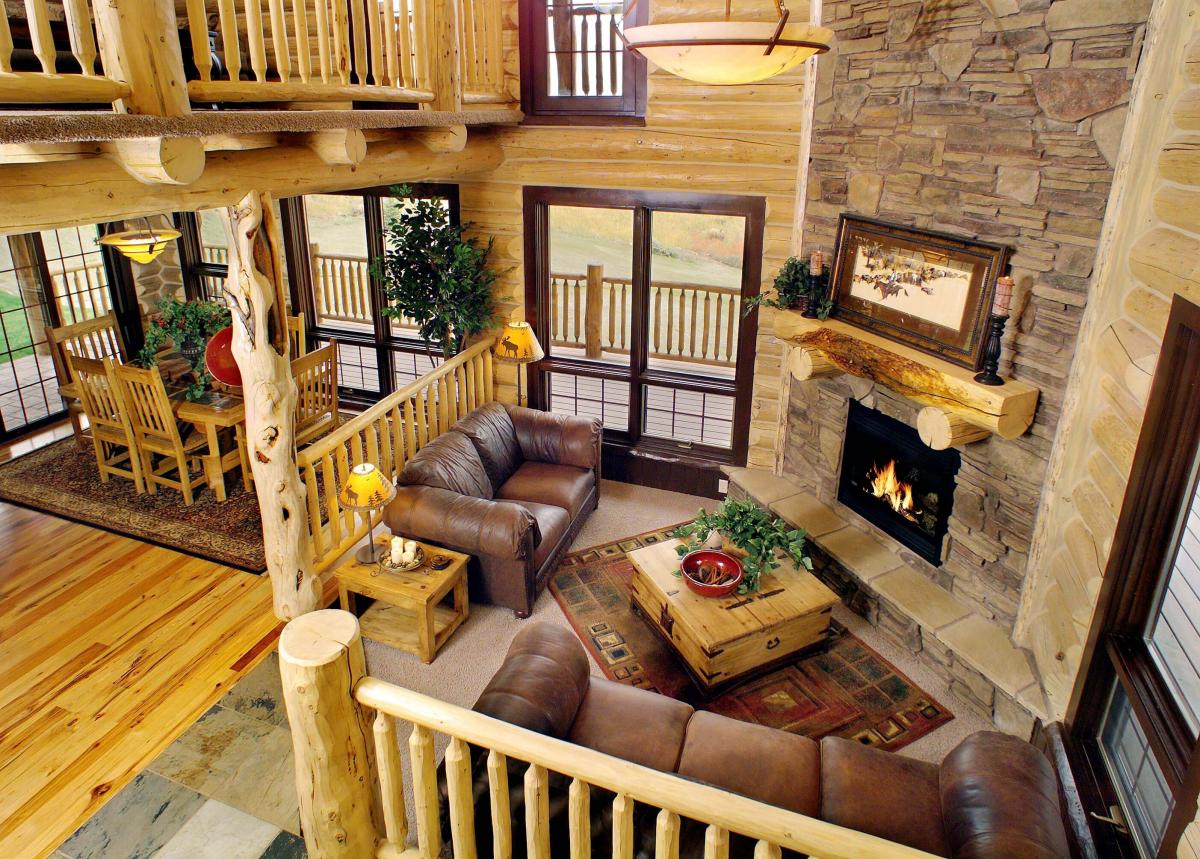 02 Jan

How to Style a Rustic Log Home

After you build the log home you've always dreamed of, what comes next? The next important step is decorating and styling your log home, and adding the finishing touches to bring personality into the home. You'll be able to create the perfect environment for your family to live in, make memories, and enjoy time together. No matter your style or the size of your log home, you can bring unique, rustic character to every room – just try these easy steps.

Make it Unique

Log homes naturally bring nature indoors, so their interior design often reflects the nature outside the home. Rustic decor consists of unique exposed wood pieces, raw stone work, distressed finishes, warm tones, textured fabrics, and other natural elements. Your log home's location will play a big part of how you choose to style it. Start by analyzing what is unique about the surrounding area and highlight those features. If you build your home on a ranch, use warm, earthy tones, western textiles, and art showcasing the ranch's landscape. If you build near a ski resort, create a warm, comfortable environment using buffalo check throw pillows, deep brown tones, and furniture that is comfortable to lounge in after a long day of snowboarding. Get inspiration for your home design by checking out your surrounding area for beautiful landscapes, natural colors, and landmarks that brings people there.

Soft Textiles

Unless your home has half log siding, every room in the house is comprised of the same hard log walls. The sturdy, dark walls can easily overpower the look of a room, but you can soften any room with breaks of beautiful textiles. Textiles drastically soften the feel of your home, whether they are used in abundance or not. Place plush fabric furniture, light area rugs, throw pillows and blankets, soft accessories, and long, flowing curtains around the windows,

Aside from various textiles to soften your home, large windows are great at bringing in natural light to balance the dark log walls. They give you something to look at besides brown walls and bring in the natural beauty from your outside view.

Rugged Finishes

Raw, exposed wood and distressed furniture are staples in rustic interior design, as the wood still displays some of its natural characteristics. This furniture is especially great in log homes with craftsman-style logs. Choose furniture made from wood native to your area. Unfinished wood furniture is also a great way to add outdoor elements to your home and help create a rustic style. The bedroom and living room are usually filled with many textiles, so adding rugged wood furniture won't pull away from the effect of the log walls.

Natural Elements

A large component of rustic style is its inherent tie to nature. Paintings of landscapes unique to your area, hunting trophies, shed antlers in furniture, and faux animal furs all work together to reflect nature in your decor.

One natural element commonly found in log home decor is raw stone, especially around the fireplace. The fireplace is an essential part of every log home, as it embodies coziness and togetherness, while also adding an important element of rustic style. The use of natural stones in the fireplace design are a great way to highlight the fireplace and balance the all wood interior. Obtain locally sourced stones or granite to synchronize your home with the natural resources found in your area. Arrange your living room furniture to face the fireplace, so it can truly be the main focal point of the room.

Large windows are common features in log homes to display the gorgeous views outside. Large windows help combine the outdoors and indoors, so it's important to highlight them by keeping all plants, lamps, and furniture out of the window's view. If your window faces an outdoor deck, keep outdoor furniture away to prevent obstructing the view.

Neutral Colors

When picking colors for your rustic home decor, remember to stay in line with natural elements. A neutral color scheme to compliment the colors found in your log home include neutral whites, beige, copper, and gold. Warm brown hues are great for making the room feel a little more cozy, especially in large gathering rooms. These large rooms can feel enormous and empty, but color can make it feel intimate and warm.

To contrast the neutral colors in your color scheme, use accent colors like orange, blue, yellow, and deep red. Smaller rooms of a log home may seem cramped as it is surrounded by dark wood walls. Using neutral and bright colors in these rooms are essential to liven up the space and make it seem bigger.

Details

The best way to add personal touches and pull the rustic look together is by adding accessories throughout your home. Choose chandeliers, lighting fixtures, vases, and decorative figurines with nature-inspired themes or rugged characteristics. Accessories made of metal, glass, or with bold colors are great materials to add contrast to the all-brown walls.

This kitchen design features a lighting fixture that compliments the kitchen's warm hues, but stands out from the rest of the kitchen. The fixture also displays iron work scenes of cowboys and horses, difficult to notice but still adds beautiful details that pull the room together. When looking to purchase unique accent pieces, check out antique shows and flea markets to add genuine rustic style.

Easily add rustic style to your log home by using unique and rugged furniture, natural materials, neutral colors, and lots of rustic details. For more information on log home living, give us a call at (208) 745-8108.