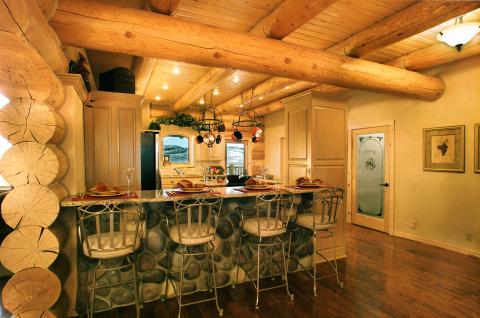 02 Jan

Elements to a Gorgeous Kitchen Design

Kitchens are an important part of a log home. It is where meals are made and shared, where friends and family talk and play games, and where memories are built to last for years. A lot of time accounted for at the cabin is spent in the kitchen, so why don't you make the most of it? Listed below are few design principles to keep in mind as you design your own dream kitchen. Seek to apply them to each aspect of your kitchen as you choose your options.

Simple Design Principles: PARC
Each of these design principles are found in The Non-Designer's Design Book, by Robin Williams. In the pictures below, see if you can identify the design principles applied!

Proximity: "Related items should be grouped close together."

Alignment: "Every visual element should have some kind of connection to at least one other element. Nothing should be positioned haphazardly."

Repetition: "Common elements, such as colors and layout styles should be repeated to give a consistent look and feel."

Contrast: "The idea of contrast is to make dissimilar elements very different. Contrast is one of the most powerful visual design tools."

Endless Possibilities for Log Home Design

When you walk in a kitchen what is one of the first things you notice? Is it the appliances, the countertops, the cabinets, the lighting, the layout, the kitchen style, or the lack thereof? Gorgeous kitchen designs are not always dreamt up in one night. Often amazing kitchen designs are pieced together one idea at a time. By keeping up with latest styles and trends in the log home world, you can design your perfect kitchen. Endless possibilities are available to customize and design your home to make it uniquely yours. If you can imagine it, you can build it. Check out some of our log home kitchen designs available for you to customize to your liking!

Kitchen Floor Plan
First of all, browse through and choose a kitchen floor plan suited to your needs and lifestyle. Consider the room size dimensions, the proximity of the kitchen to the rest of the house, the layout design, where your kitchen sits in proportion to the best views of the property, and whether the floor plan matches your ideal dream kitchen. Finding a well-designed kitchen layout should not be underestimated, as it will play a large role in the appearance and functionality of your kitchen. Yellowstone Log Homes offers a wide range of floor plans that you can customize so that your kitchen will meet your unique needs. If you choose a floor plan carefully, you can avoid post-building regrets.

Selecting the Right Lighting Fixtures

Lighting can change the whole feel and atmosphere of a room. When it comes to selecting the right lighting for your kitchen, you will want to keep in mind of a few things. First, you will want to have ample light for food prep. Second, you will want to have the flexibility to control the amount of lighting in the kitchen, either through light dimmers or a variety of multiple or single lights. Third, you will want lighting fixtures that compliment your kitchen style. Light fixtures are both practical and decorative in nature. Consider how choosing the right light fixtures in your kitchen can enhance the style and overall feeling of the room.

Coordinated Cabinets

Cabinet styles can transform the look of a kitchen and set the tone for the whole rest of the log cabin. Among the many different styles of cabinets, you can choose from are country, modern, or traditional cabinet styles. Decide what kind of look you want to go for and remember that more than likely you will be coordinating your kitchen design around your choice of cabinets, so choose wisely. You can customize the color tone, the wood stain, whether it has glass panes, the height and placement of the cabinets, etc. Note: If your log home interior is made of log beams throughout the whole house, consider cabinets that would compliment or contrast the look of those log beams.

Classy Countertops

Out in the open and in plain site, kitchen countertops are highly visible and can make a big impression. In the last several years there have been many different styles of countertops in the kitchen, from quartz, marble, concrete, solid surface, tile counters, granite and more. Countertops have a way of enhancing the overall appeal  of a kitchen. The main thing when looking at countertops is how they fit in with the style of the kitchen and what affect will it have on the eye. Figure out what kind of look you are trying to achieve and weigh out your options to see what would look best, at a price you can afford. Seek to either tie in the countertops with another similar element in the kitchen, or seek to make it contrast with another element, such as the walls, cabinets, or floors. Take a look at the granite counter tops in each of these pictures, and see how it adds to the overall appearance of the kitchen. Granite countertops are often a personal favorite for the quality and classy look, however, there are so many materials available to achieve whatever appearance you are going for, either rustic or traditional. Check out more our of interior log home pictures for more ideas!

Kitchen Windows

Windows in your kitchen allow you to take advantage of beautiful scenery, allow natural sunlight to warm your log home, and enhance the appeal of any room in your log home. Like choosing your cabinets, countertops, or floors, choosing your windows can have an equal impact on the visual appearance of a room. You can choose between hundreds of windows types to enhance the appeal of your kitchen, including double hung windows, casement windows, awning windows, picture windows, transom windows, slider windows, stationary windows, bay windows, and more. Let in more light with high quality windows to enjoy better views, and never underestimate the added appeal of attractive windows to enhance to the look of a room.

Unique Island Design

Classy kitchen designs often incorporate an island. An island has many benefits in the kitchen from self-serve meals, to additional cabinetry and sitting space. Most of all though, a kitchen island can add curb appeal to your kitchen. There are many ways you can customize your island to increase the aesthetic appeal of your kitchen. For example, instead of copying the typical solid wood design for kitchen islands, it is becoming more and more popular for the island to be covered in rock around the sides, and granite on the countertops. Nothing quite compares to this style and design, but there are hundreds of ways you can make your kitchen island stand out from other kitchens. Take advantage of your design options for your island and see what it can do for you kitchen!

Kitchen Flooring

Those who design amazing kitchens pay special attention to the flooring installed in the log home. The best type of kitchen flooring is the kind that adds to the overall look, while being easy to maintain in the long run. Kitchen flooring has a way of drawing in the eye. What you choose for your kitchen flooring can dull or sharpen the look of your kitchen overall. Popular flooring choices in the kitchen include hardwood flooring, tile floors, vinyl flooring, linoleum, natural stone, laminate, and more. Some of the  most popular choices for flooring on the market right now are hardwood floors, flagstone floors, and tile floors. No matter what your preference is, however, as long as the floor material is high quality, and design principles of contrast or repetition are applied, it will be visually appealing.

Kitchen Wall and Ceiling Joists

One way you can customize your log home kitchen in a way you can't for typical homes is in the kitchen wall and ceiling design. With the log structure, you can choose whether or not you prefer log beams to be incorporated in the interior walls, partitions or ceilings. Typically called log joists, these log beams in the ceiling can have a powerful effect on the overall aesthetic appeal of the kitchen. If you are looking for a way to make your kitchen design stand out, consider the look of log joists incorporated in the ceiling or walls. It can add a new depth to the room and give your kitchen more character.

As a log homes manufacturer, we have sold over 10,000 log home kits and have worked with customers to plan their dream log home. With our experience and expanse of resources, we are more than happy to assist you at any stage of the log home planning process. Feel free to give us a call at (208) 745-8108 and we can point you in the right direction. For more pictures of log home kitchens, visit our website today!